This article takes a close look at the Contisportcontact3.
What is that thing you look out for in a vehicle? The stylishness, space, color, or beauty?
What about the tires? The tires are essential parts of the vehicle every driver must pay attention to. Sadly, many vehicle owners overlook this.
The tires are essential if you intend to have a smooth drive as they are the only link between your vehicle and the road.
Tires do more than just roll. Just like you take out time choosing beautiful shoes that fit your feet, you should take out time to select tires that fit your vehicles nicely so they can work in their optimum condition.
The ContisportContact3 is one tire you would love to have. It is a tire designed by Continental for the drivers of powerful sports cars, luxury sedans, and sports coupes. Continental has a reputation for creating outstanding and durable tires, so t was not expected to be below par. Not only does the purchase of Continental brand tires ensure quality performance, but it also provides an extra measure of confidence. It is a high-quality summer tire that offers excellent safety performance in both wet and dry weather.
The asymmetric tread ensures a driver remains in control of the wheel because it absorbs the considerable forces that impact tires when driving at high speed or maneuvering quickly. The unique grooves in the tire guarantees improved resistance to aquaplaning. It comes in different sizes, so you can always pick that which suits your vehicle perfectly.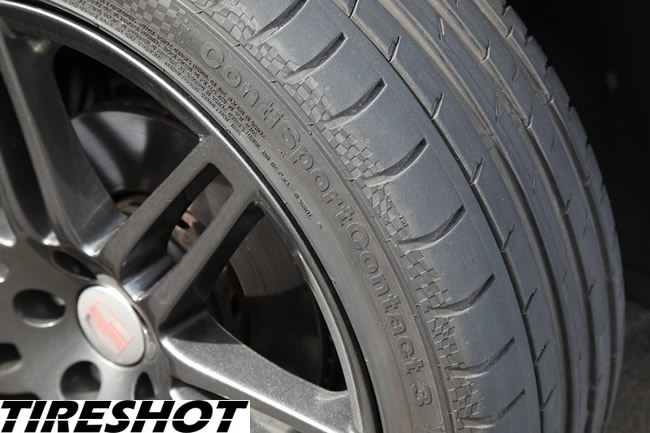 TECHNICAL  DETAILS OF CONTISPORTCONTACT3
Excellent Protection against Aquaplaning: Sudden showers and water puddles on the road can pose a great danger to drivers if the vehicle begins to aquaplane uncontrollably. This can lead to a loss of traction that prevents the car from responding to control inputs. The ContisportContact3 possesses unique grooves that allow increased clearance of water for better resistance to aquaplaning.
Excellent safety when driving at speed: It is indeed a great thing to drive as fast as you want without worrying whether the tires can withstand the speed. ContisportContact3 has asymmetric tread rubs designed to absorb the forces acting on the tires when driving at high speed or when a driver intends to make abrupt maneuvers. This not only ensures that the vehicle maintains good adherence to the road, but it also guarantees agile steering precision.
Reduced stopping distances on dry and wet roads: With the ContisportContact3, you do not have to worry about how long you have to stop on wet and dry roads.  This is because it possesses tread pattern ribs that provide outstanding braking capabilities and steering precision by absorbing the braking forces.
Superior Performance: The performance of other tires is nothing compared to ContisportContact3. When it comes to quality performance,  there is just so much that ContisportContact3 has to offer that other tires might not be able to give. Its unique high performance increases responsiveness and cornering stability. The tread design also guarantees exceptional handling and braking both in dry and wet conditions.
TECHNOLOGIES
If there is one thing that sets ContisportContact3 from other tires, it has to be the fantastic technologies it employs. Some of these are:
Contiseal: This is a technology developed by Continental to seal a damaged tire tread. When the tire is punctured by foreign objects such as nails, there is really no need to change the tire as the hole remains sealed even after the item is removed. This contiseal is a sticky sealant layer applied to the inside of the tire in the tread area. It ensures that at least 80% of all tire punctures are sealed, which plays a significant role in reducing flat tires' risk.
Contisilent: This is another technology developed by Continental. It is a noise-reducing technology as it is designed to reduce interior noise on all road surfaces.  It gets really distracting when the tires make noise while driving. But with ContisportContact3, there is no need to worry about this.
The SSR System is a run-flat technology designed by Continental, particularly for low section tires. What this does is that when a puncture occurs, it prevents the sidewall from being crushed between the rim and the road and the tire from slipping off the rim, which makes a spare tire unnecessary. Not having to carry a spare tire in your vehicle means there would be a weight reduction and, in turn, improves fuel efficiency.
Being a summer tire, the ContisportContact3 is not expected to be driven in freezing temperatures such as snow or ice. However, it features an asymmetric design with solid tread blocks and continuous ribs on the outboard shoulders to improve responsiveness. It also reduces noise and controls the forces experienced when the vehicle is about to halt.
Other exceptional features include:
Wet Grip: It is crucial to have a grip on the road, either wet or dry. This makes driving safe. ContisportContact3 offers this kind of safety as it allows wet grip.
Fuel Efficiency: The ContisportContact3 guarantees efficient use of fuel in the vehicle. Because there is no need to have a spare tire with ContisportContact3, there is a reduction in the vehicle's weight, which ensures efficient use of fuel.
Quiet drive: Who does not enjoy a peaceful and no noise drive? ContisportContact3 ensures that the drive is calm and quiet with the aid of its noise-reducing technology called consilient. This is unlike many other tires that make really distracting noise during trips.
Where to buy?
The best place to buy the Contisportcontact 3 is tirerack.com. Why, because tirerack.com it the internet's #1 tire website.
CONCLUSION
There is no doubt that ContisportContact3 has it's own shortcomings as it is not advisable to be used in freezing temperatures such as snow and ice. However, it is your best choice if you are looking to acquire tires that do not require regular swapping, don't make noise, or tires that protect against aquaplaning.